< Mit OM5 in die Zukunft
20.02.2017 10:45 Age: 3 yrs

With OM5 in the future
---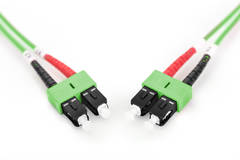 In the case of the OM5 fiber, the range of 850-950 nm wavelengths is produced in such a way that the transmission is extended to 4 wavelengths. With OM5, up to 25 Gbps can be transmitted per wavelength and 100 Gbps over one fiber and over a distance of 150 m.
Our DIGITUS® Professional OM5 patch and MPO cables are in accordance to the specification of TIA-492AAAE and IEC 60793-2-10 edition 6.
Focus now on the future of the multimode. Here you can find suitable OM5 products or ask here for a quotation.
---