< DIGITUS® Kabel entsprechen der neuen Bauproduktenverordnung
02.03.2017 09:29 Age: 4 yrs

The New European Fire Protection Classes
---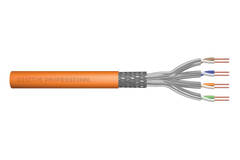 Since July, 2013 the Construction Products Regulation (CPR) is valid. Therefore, in the building installed cables and lines must be classed concerning there fire behaviour. Manufacturers of copper cables and fiberglass cables still have time up to the 01st of July, 2017 to test and certificate their products according to the regulation.

The EU had granted a long transition period so that the manufacturers had enough time to transpose the regulation.

DIGITUS® has already made his homework:

From Q2 2017 we offer you DIGITUS® Cables, which comply with the current Construction Products Regulation (Regulation (EU) No. 305/2011 // EN 50575).

Here you will find comprehensive information on the guidelines for fire protection.


---