< Die perfekte Lösung für Ihre Netzwerkinfrastruktur: Die Netzwerkschrankserie DIGITUS® Unique
23.05.2016 14:14 Age: 4 yrs

The perfect solution for your network infrastructure: The Network Cabinet Series of DIGITUS® Unique
---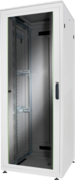 The Network Cabinet Series of DIGITUS® Unique is designed and produced for cabling and networking components. Features such as 1 unit marking on the mounting profiles, easy and quick release doors and side panels, fully adjustable front and rear profiles of the cabinet make the product extremely attractive to installers.
The incredible design of the Unique Series is rounded up with the use of a framed smoked safety glass front door fitted with a swing handle lock. Door hinging can be quickly reversed left to right. The Unique Series is available in 5 heights from 22 units up to 47 units. A various size of 600 mm, 800 mm and 1000 mm depth are in the portfolio of the Unique Series. Each cabinet includes lockable glass front door, lockable steel back door and lockable side panels.
To get a first view of the cabinet series, you can take a look here to the video of the Unique series.
---