< Spleißen ganz einfach gemacht - S2Technology Fusions Spleißgerät
08.03.2016 15:06 Age: 4 yrs

An easy way to splice - S2Technology Fusion Splicer
---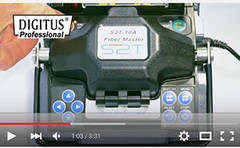 Oftentimes installers lay fiber optic cables alongside copper cables. For this, the installers can mostly use pre-installed cables and build up a port between them with a coupler.
When it comes to this method, the following question remains open:
What is to be done with the excess length of the cable? Was the cable measured to the nearest millimeter or did you bear safety in mind and measure it rather generously?
You can solve this problem: discover our new S2T-10A Splicer.
The S2T-10A splicer practically splices on its own. This splicer is suitable for use in rugged everyday conditions – its housing is manufactured from a titanium alloy, and it has also been fitted with rubber protection. Four motors quickly and precisely position the two fiber ends next to one another and then melt them together via electrodes. You operate the splicer using a 4.3-inch LCD screen. You can splice either multi-mode or single-mode fibers – all you have to do is switch the fiber mountings. The splicer's integrated battery can provide power for up to 200 splices.
Convince yourself with this video about the advantages of the S2T-10A splicer.
---