< Kein PoE? Kein Problem!
02.07.2018 10:00 Age: 2 yrs

New Video Extender Member
---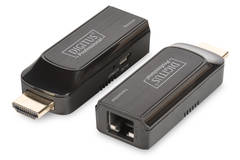 The DIGITUS® Mini HDMI Extender Set (DS-55203) extends the maximum length for HDMI cables to up to 50m.
The set consists of a sender and receiver unit and supports Full HD video content, as well as resolutions up to 1080p/60Hz. Sender and receiver can be charged via PoE – it is sufficient to supply one unit with power using a Micro USB cable.
Position your screen wherever you wish.
Read more information.
---