Combine analog and IP cameras in one system
---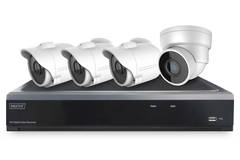 The DIGITUS® DIGITUS Full HD Hybrid AHD und IP Netzwerk Video Rekorder Kit DN-16121 is a 6-channel digital video recorder with 4 analog HD cameras for outdoor use and two additional connections for IP cameras in full HD resolution.
The kit offers you the possibility of monitoring several areas of your house or business and to exchange existing analog systems for premium full HD cameras without having to replace the existing cabling. In addition, 2 IP cameras with full HD resolution can be integrated into the system so that, besides classical analog monitoring, IP cameras positioned in the interior, for example, can also be connected to the system. You have direct access to the live images as well as the photos on the recorder. via the local VGA and/or HDMI interface. Motion detection, schedule or manual photos are supported for the 6-channel real-time recording.
For the recording a SATA hard disk with up to 6 terrabytes can be installed in the recorder. A backup of the images is made via the USB interface. USB sticks as well as hard disks are supported here. The kit is delivered including the cameras.
The delivery contents include
three full HD bullet outdoor cameras as well as
a full HD dome outdoor camera.
The cameras have a fixed focal length of 3.6mm, are IP66 weatherproof, support a temperature range of -20°C~50°C and are designed for monitoring of up to 20m by day and night via the infrared LEDs. The recorder can be connected to the local network via the RJ45 interface. Access via the DIGITUS recorder app ensues as soon as an Internet connection to the recorder exists.
Here you can find more product information.
---