DIGITUS® CAT 6 U/UTP patch cords – LSZH
---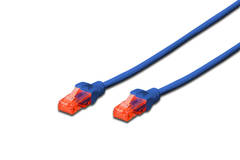 The assortment of DIGITUS® CAT 6 U/UTP – LSZH combines outstanding performance and link quality. It is therefore suitable for every field of application.
In addition the LSZH-sheath (Low Smoke Zero Halogen) provides best fire behavior and low smoke emission which eventually ensures a high level of security.
The DIGITUS® CAT 6 U/UTP patch cords – LSZH are available in length from 0.25 to 30 m and come in six different colors to allow for optical identification.
Here you will find the assortment.


---