Build-to-order network cabinets: New configurations available
---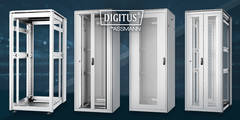 The DIGITUS® network cabinets of the Unique Series have been extended by 42 brand new configurations: choose from different options and have your individual network cabinet built according to your wishes in our assembly area in Lüdenscheid.
Available are five different cabinet sizes:
26U, 600 x 1000 mm
36U, 800 x 800 mm
42U, 800 x 800 mm
42U, 800 x 1000 mm
47U, 800 x 1000 mm
The following door configurations are available:
Glass door
Steel door (perforated, closed or with cable inlet)
No door
In addition, you can choose between single and double opening, as well as optional side panels.
Discover the variety in our online store!
https://de.assmann.shop/de/Neuheiten/?cnid=92d330716857ff085d74e99767c3ba9b&quarter=2021-2
---