Award-Winning DIGITUS® IP Camera System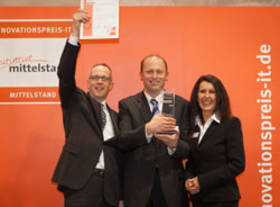 We were presented with the regional 2013 IT Innovation Award for the German state of North Rhine-Westphalia at CeBIT in Hanover.

What product earned the award?
The DIGITUS® Plug&View IP camera system.

What is the Innovation Award?
The Innovation Award from the Initiative Mittelstand (initiative for midsized businesses) recognizes the best IT solutions for SMEs. Our products won over the expert jury consisting of 100 professors, scientists, industry representatives, IT specialists, and technical journalists.
Who can be seen in the photo?
Harald Kintzel, Technical Director at DIGITUS®, proudly receiving the award presented by Beate Heider and Rainer Kölme, who serve as co-CEOs of Initiative Mittelstand.

Where can I find out more about DIGITUS® IP cameras?

More information about the DIGITUS® Plug&View IP camera system is available here.