Data Center with DIGITUS® – Innovative and Flexible
A lot has changed since 1969. Companies need to handle ever larger data volumes nowadays. According to a current study, the global data traffic in computer centers is set to increase to 7.7 zettabyte by 2017.

Intelligent business applications, cloud technologies and the increasing virtualization ensure that the requirements for data centers are steadily growing.
The Challenge of Big Data
Consistent performance and efficiency also needs to be ensured with constantly growing data volumes. Data center operators can achieve this by means of clean and capable infrastructures.

We can offer you all the building blocks required for creating, operating and restructuring successful and efficient data centers. This includes products for rack cooling, fans and sockets boards, for example.


How to Build your Ideal Data Center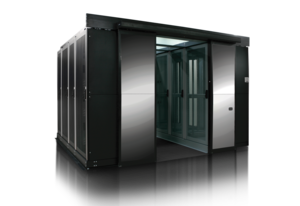 Reducing complexity
We make data centers more understandable!


Ordering the infrastructure
We make data centers more manageable!


Increasing dependability
We make data centers safer!


Boosting efficiency
We make data centers more productive!


Putting technologies to an intelligent use
We make data centers more environment-friendly!
Growing data volumes call for higher capacities
Virtual data backups in the cloud are ultimately also based on a physical computer center - including a range of server racks and network cabinets.

With DIGITUS® Unique,we introduce cabinets of a particularly high quality and robustness for your data center. The racks convince with great resilience at a fair price-benefit ratio, and are suitable for use in cold corridor and hot corridor systems. In addition to this, sophisticated locking mechanisms help to fight security gaps and lay the foundation for data security in the company.

It is important to us that the racks can be fully installed in the shortest space of time. To ensure this, we rely on quick connectors and intelligent contact systems. This enables a complete data center to be built faster and cheaper.