Extendible Fiber Optic Splice Box with Quick Lock System
---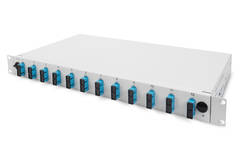 Simple and fast locking - without the use of special tools. The new extendible glass fiber optic splice box with quick lock system is now available.
Pre-assembled splice boxes are gradually being converted to the new, more time-efficient system. The robust empty housing made of painted sheet steel is the basis for the assembly of the individual splice box.
A total of seven different front panels are available for vertical mounting of the corresponding couplers.
---