< Neue Schrankserie varioFLEX - mehr Flexibilität für Ihre IT-Infrastruktur
23.02.2016 12:39 Age: 4 yrs

New Cabinet Series varioFLEX – More Flexibility for your IT Infrastructure
---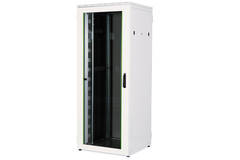 You can fill these cabinets with technology "right to the ceiling", in the truest sense of the word. The varioFLEX network cabinets and server racks enable you to accommodate your 19" components and accessories in the roof or floor area, too. You can access all the installations by way of the front and back doors, as well as through the removable and lockable side panels and the roof.

Despite their great flexibility, these cabinets are rendered particularly stable by their injected edge connectors. The frame can bear loads of up to 1,200 kg. And you are also free to choose where the laying of the required cables is concerned – the cable inlet can be individually designed. Be it at the start of a long row of server racks in a computer center or as a single network cabinet, varioFLEX is the ideal basic model for accommodating your components.

Here you will find a the current varioFLEX brochure: Download or eBook.
---